Sky9 Capital Founder and Partner Ron Cao Congratulates Full Truck Alliance on its Successful IPO
Shanghai, June 22, 2021 – Chinese freight logistics giant Full Truck Alliance ("FTA"), known as Manbang, floated on the New York Stock Exchange today under the ticker 'YMM'. Ron Cao, Founder and Partner of Sky9 Capital, extends his warmest congratulations to Hui Zhang, Founder and CEO of the company, and his team on the successful IPO.
Sky9 Capital's Tony Lo attended the bell ringing ceremony in Shanghai.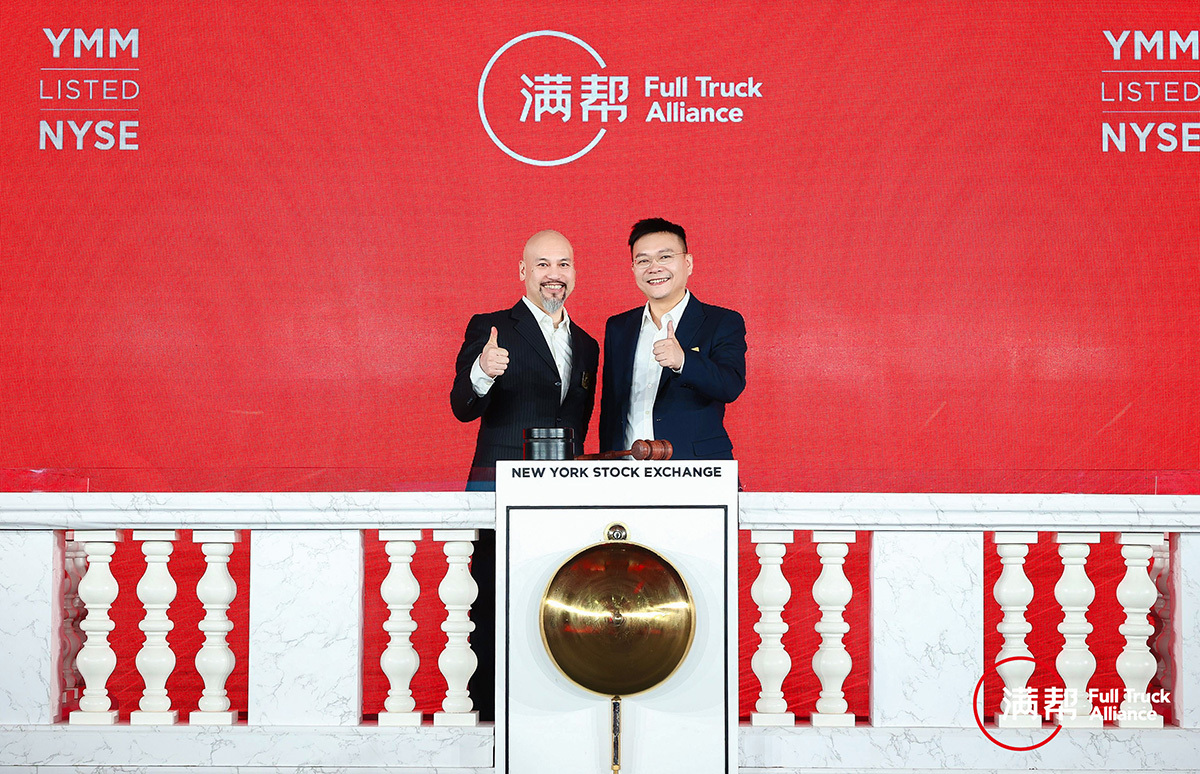 Ron Cao in his first fund invested in Yunmanman in 2014 and also continued to invest in the company's subsequent funding rounds. In 2017, Yunmanman merged with Huochebang to form Full Truck Alliance. Now the world's largest digital freight platform in terms of GTV (gross transaction value), Full Truck Alliance completed 71.7 million orders in 2020 at a value of $26.6 billion.
"I am proud to have been the first institutional money to have backed the company," said Ron Cao. "It is extremely rewarding to have witnessed the growth of the business over the years in becoming the market leader. FTA will continue to drive innovation by digitizing China's large logistics market, and we look forward Hui and his team continue to drive FTA into becoming a world-class company."
FTA's mission is to revolutionize the highly fragmented, complex and inefficient road transportation industry, which in China alone was worth $951.5 billion in 2020. The company has pioneered a smart solution utilizing the proliferation of smartphones and mobile internet to improve efficiency and reduce carbon emissions.
Shippers list a freight job through the platform, then truckers respond directly with quotes. The platform's algorithm provides added-value by suggesting suitable prices to guide the shipper, and optimal routes for the truckers. Each trucker has a profile and track record to guide the shipper's decision making. The platform eliminates the need for truckers to go out of their way to visit remote logistics parks, thus saving time and mileage. Shippers benefit from lower price by removing agents, which account for 10%-15% of freight fees in a traditional transaction.
In 2020, approximately 20% of all China's heavy-duty and medium-duty truckers (2.8 million truckers) fulfilled shipping orders through FTA's platform, and 63% of truckers surveyed by CIC (China Insights Consultancy) found an increase in monthly orders from using the platform.