China's 'easy' money days over as value of venture capital deals plunges 67.5 per cent in January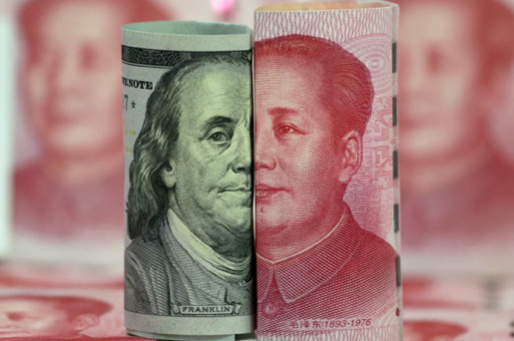 The Chinese venture capital market collapsed in January, with both the value and number of deals down more than 60 per cent year on year. Photo: Reuters
The Chinese venture capital market collapsed in January, with both the value and number of deals down more than 60 per cent year on year according to new data, though some see the slump as a necessary "correction" amid tighter regulation and slowing economic growth.
Investments last month totalled 29.4 billion yuan (US$4.3 billion), representing a 67.5 per cent year-on-year slide and 31.7 per cent month-on-month slump, according to a report released Monday by China-based researcher Zero2IPO.
China's smaller innovative tech players struggling to get venture capital
A similar year-on-year fall was seen in the total number of deals, which fell 63.5 per cent to 286.
More than half of the investment deals last month were for early-stage, series A and B financing rounds, with the hottest targets being business services instead of the previously dominant consumer sector, according to a separate report by Zero2IPO.
The easy money is now over, according to Joe Tsai, Alibaba Group's executive vice-chairman. "Entrepreneurs [in China] had it too easy raising gigantic billion-dollar rounds of capital and multibillions in valuation," Tsai said at the Thomson Reuters Breakingviews Predictions 2019 event on Friday. "[A correction] will happen and it's healthy." Alibaba owns the South China Morning Post.
Chinese tech start-ups were able to raise billions of dollars in the private market in the years from 2015 to 2017, though some that listed publicly last year are now trading below their offering prices, including smartphone maker Xiaomi and on-demand service giant Meituan Dianping.
Ofo is perhaps a prime example of the sudden change in fortunes some companies are experiencing. Founded in 2014, the bike rental firm raised a total of US$2.2 billion in nine funding rounds in less than four years.
Once a start-up star, Ofo has struggled with bankruptcy rumours since late 2018 amid a cooling of consumer interest in bike rentals, industry consolidation, a local authority crackdown on the number of bikes on congested city streets and a sudden rush by about 13 million users in China to get their deposits back.
US venture capital outpaces local funds when it comes to Chinese investments
The number of Chinese start-ups that launched IPOs in January fell 65 per cent year on year to 55, according to Zero2IPO, signalling a tougher environment for venture capital or private equity investors looking to profit from new listings.
"Some start-ups cannot survive now that the capital rush has slowed," William Li, a senior analyst at Beijing-based data research company Context Lab, said in an interview last month.
"They aggressively look for new people and offer attractive salaries and positions when they have new funding. Lay-offs naturally follow when companies fail to find sustainable profit models and run out of cash."
Rumours about tighter hiring practices in China's tech sector began to swirl at the end of 2018 amid cooling valuations for start-ups, tighter market conditions for private enterprises and a shrinking pool of venture capital funds.
The number of China's venture capital deals dropped to 713 in the fourth quarter of 2018, down 25 per cent from a year earlier, with the amount of funding shrinking 12 per cent to US$18.3 billion, according to data released last month by market research firm Preqin.
For renminbi investors, the environment is now tougher because of tighter financial regulations and the country's economic slowdown, according to Ron Cao, founder of Shanghai-based venture capital firm Sky9 Capital.
However, the silver lining for yuan-dominated private market investors this year could be Shanghai's new Technology Innovation Board, which is expected to boost the city's ability to attract tech listings while creating more opportunities for private equity investors to exit.
China unveils trading rules for new hi-tech board
"Prolonged US-China trade tensions might not directly affect US-dollar-dominated funds in China but it indirectly creates a negative sentiment, which will affect investors' decisions," Cao said.
Separately, a list of the world's top AI unicorns published this week shows that more than half are based in China. CB Insights, a research firm that tracks venture capital activity, said six out of the 11 AI start-ups valued at more than US$1 billion are Chinese, with facial recognition specialist SenseTime taking the top spot with a valuation of US$4.5 billion.
SenseTime and another Chinese facial recognition company, Face++, also received the most equity funding among all AI start-ups, raising US$1.6 billion and US$608 million respectively, according to CB Insights.